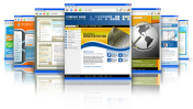 eBusiness Customer Portal
Monitoring Service

Portal Hosting Services

No matter how good your services are, your business will not survive if you do not have a strong support system. We understand this notion. This is why we do not rely on call centers for our support staff. Our staff is completely comprised of highly skilled IT professionals with years of industry experience. Also, our support staff is 100% based in the USA and available around the clock 24/7/365!

eBusiness Suite Data Transfer Monitoring

The Customer Portal Interface application includes built in alerts. Our support staff is notified 24x7 with our Positive and Negative alerts. If there is ever a failed data transfer, support staff is notified for immediate attention.